A wide range of therapies are used to treat the heart and lung disorders of respiratory care patients.
Evaluation of heart and lung function is aided by products and technologies including airway management and therapeutic devices for respiratory care, which can be used to treat acute pulmonary dysfunction and manage chronic respiratory disorders.
fabian HFO

Our 4-in-1 device
Neonatal and pediatric ventilation modes (IPPV, SIPPV, SIMV, PSV and SIMV+PSV) with independent adjustment of inspiratory and expiratory flow reduces the work of breathing and inadvertent PEEP. All these features and even more in just one device: all neonatal and pediatric conventional ventilation modes (Volume Guarantee included), Non-Invasive Ventilation modes (NIV), O2 therapy with High Flow Nasal Cannula (HFNC) and unique High Frequency Oscillation (HFO) with Lung Recruitment Maneuver and Volume Guarantee.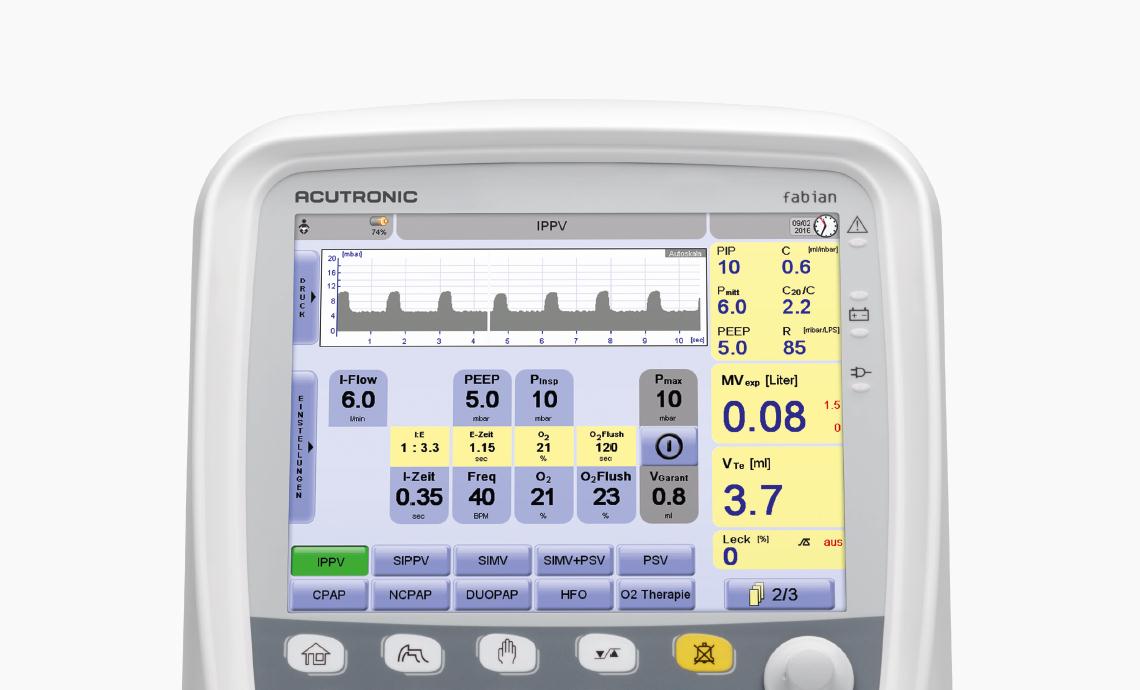 fabian Therapy evolution

Our 2-in-1 device
nCPAP and DUOPAP(NIV) modes for nasal and mask ventilation with automatic leak compensation, featuring two-level CPAP mode to improve CO2 washout. NIV plus High Flow Nasal Cannula available in one device for an easy and safe weaning program.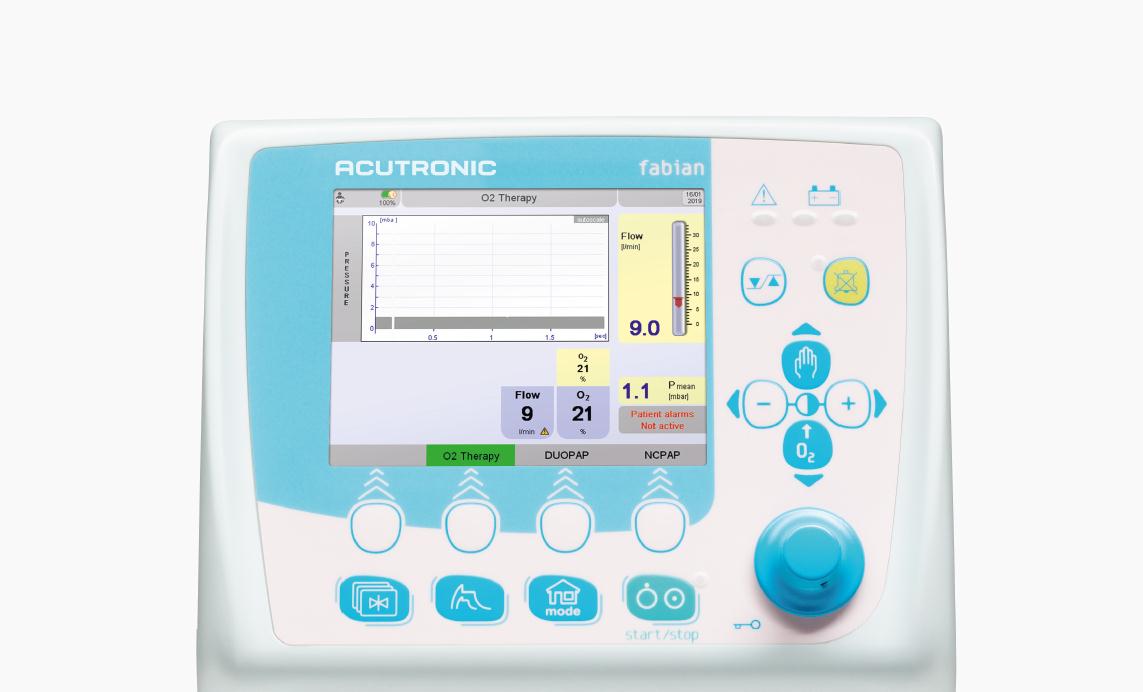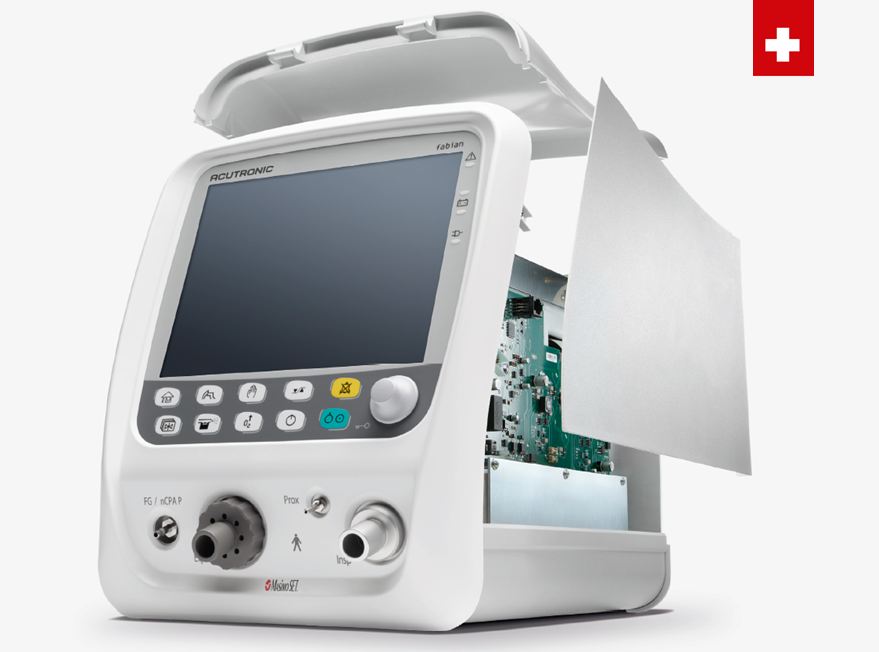 Designed in Switzerland
The fabian family is the result of more than 30 years of experience in design, development and craftsmanship.
Powerful components such as long-lasting battery packs, innovative modules like a one-piece expiratory valve and a cleverly reduced assembling concept with easily accessible parts make this device user-friendly.
Together with a customized service program, Fabian helps to minimize the cost of ownership.
Precision Flow

The only mask-free respiratory support
Hi-VNI Technology is trusted by clinicians and supported by a large body of top tier clinical work. Hi-VNI Technology is a front-line tool for respiratory distress—including hypoxemia, hypercapnia, and dyspnea.
The nasal cannula used with Hi-VNI Technology is comfortable for patients and reduces the risks and care complexities associated with mask therapies.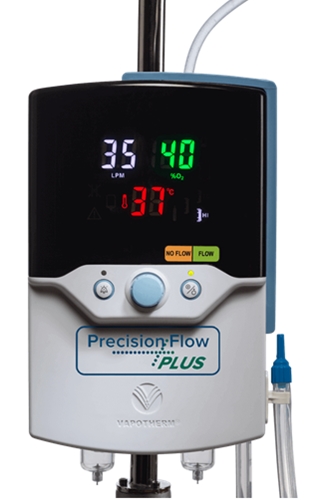 AIRcon

Complete respiratory humidification system
AIRcon provides a complete respiratory humidification system in combination with its specially designed humidifier. It is suitable for mechanically ventilated patients requiring individual therapy with high performance and safety.
- 3 function modes (IV, NIV, FREE)
- Expiratory tube: adjustable heating performance
- Individual adjustment of humidification performance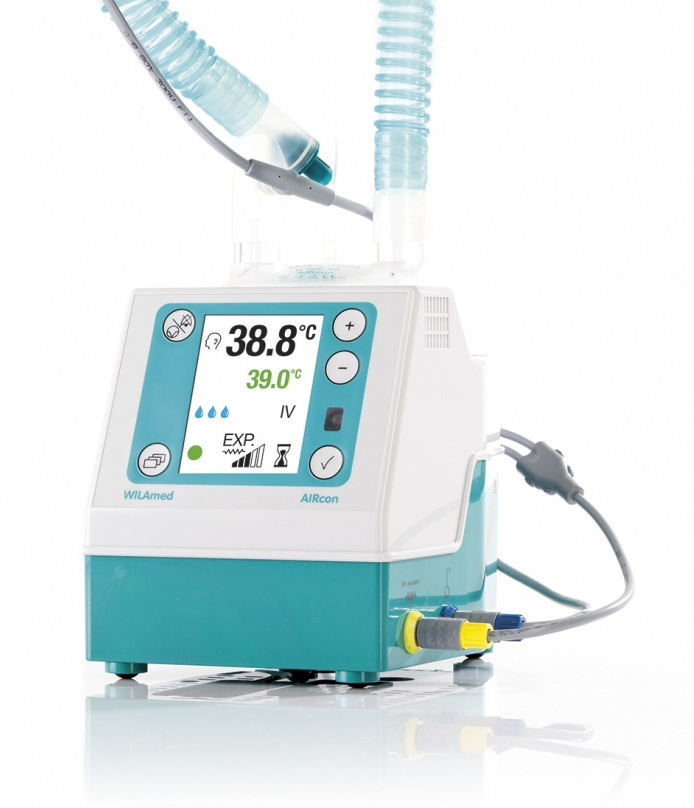 Deaflux

Active humidification
DEAS offers a complete range of phthalates free smoothbore breathing circuits with single or dual heated wires for any kind of ventilator and active humidifier for hospital and home use. DEAS heated breathing circuits are available in a variety of configurations, with or without autofeed humidification chamber, and in three sizes (adult, pediatric and infant) to accommodate any clinical need.
- Reduced internal flow turbulence
- Low compliance, Ensures the respect of the ventilation parameters
- Without "cold spots", preventing condensation build-up inside the circuit (Prevent "VAP")